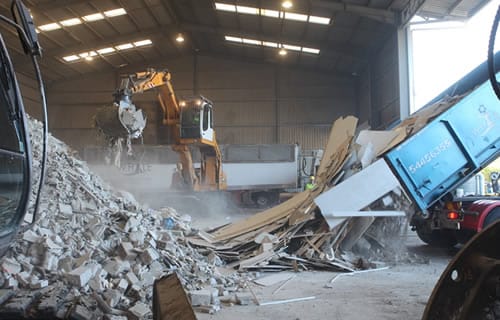 Whale Resource Recovery is the first and only purpose-built recycling centre for construction and demolition waste in the Sunshine Coast region. Our mission is to reduce pressure on landfill sites by recovering and reusing valuable resources that are currently going directly into landfill.
At Whale Resource Recovery centre, feedstock of mixed construction and demolition waste is sorted mechanically and physically. Separate clean waste streams are then produced to be reused as roadbase and drainage as well as turf underlay. The supply of recycled ferrous and non-ferrous metals, cardboard, paper and plastic are used in the manufacture of new products. Whale Resource Recovery provides an offload option for these companies, thereby providing a reliable supply of feedstock.
Launched in 2013, the Whale Resource Recovery facility has a strong sustainability focus.  We harvest and store rainwater for use in dust suppression, employ an energy efficient design of office space and have installed a PV system on our covered sorting area to minimise power draw from the grid. All these practises help reduce our carbon footprint.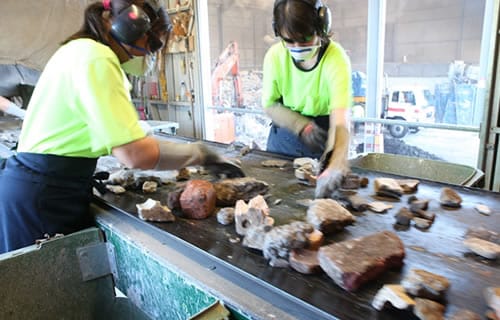 Whale Resource Recovery has been designed to provide site components that fully comply with regulatory requirements. This has been done to minimise overall environmental impacts by maximising energy, water and material efficiency, minimising truck movements, optimising tonnages sorted per piece of equipment, and more.
Why Choose Whale Resource
Recovery Centre?
85% diversion from landfill solutions
Robust recycling performance reporting
Continual investment in plant and equipment
Purpose-built recycling equipment
Innovative waste stream management tool
Open Monday to Friday 6:00 am-4:30 pm and Saturday 6:30 am-11:00 am

Equipment and Resources:
Trade certified weighbridge
3 excavators and 1 front end loader
4100m purpose-built recycling centre
Undercover recycling & processing plant
Latest innovative recycling equipment
Customised computer program for waste & product streams